About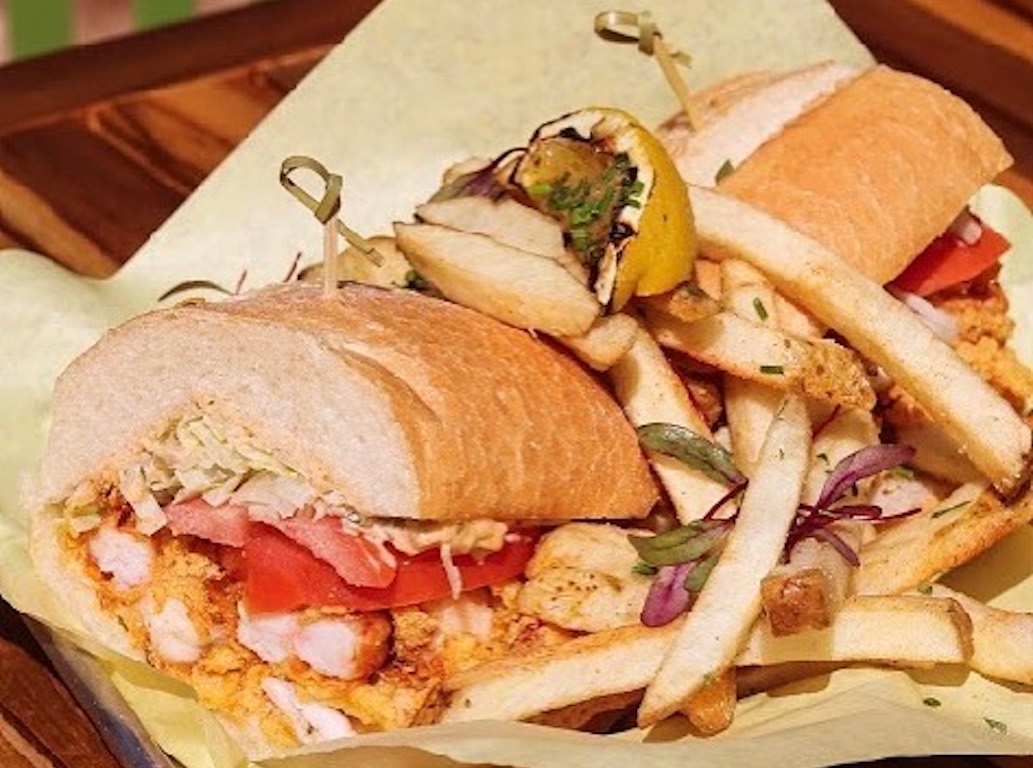 Four strangers walk into a bar...
... and 30 years later they open a restaurant
30 years ago, four people working in the hospitality industry met in a bar on Toulouse Street in the great city of New Orleans. Over time they became friends and when the first one moved away he stated, "our paths will cross again." Sure enough, over the next three decades, they worked together and apart in cities across the United States, including Telluride, San Francisco, Chicago, New York, Washington DC and of course The Big Easy. In early 2021 an opportunity presented itself and Toulouse was born.
Using local, sustainable ingredients, we produce our spin on New Orleans food, in the type of place where tourists feel at home, locals are at home, and everyone is surrounded by family and friends.







Great service, they were very accommodating with our (+ another party's) requests of socially distanced tables. The food was amazing. Pours are great, the Old Fashioned with cherry juice was awesome.

Melanie 01/14/22







The best food I've ever eaten at Tahoe and up there with some of the best food I've had in California. The catfish po boy was cooked perfectly and seasoning was top notch. So good that I had to try the bread pudding which is also excellent. Not cheap, but it shouldn't be— the quality is superb and service attentive.

Tay F 01/06/22







Great service, friendly staffs and importantly delicious food. Would definitely go back soon. Spent a week in S. Lake Tahoe, the restaurant is right next to the hotel, easy to find and the place is very cozy and comfortable also clean. Food is so fresh and gourmet. Loved it.

Yvonne L 01/05/22







Food was amazing! Came here for dinner after hitting the slopes and my brother was craving southern comfort. Touslouse was the perfect spot that fulfilled our group of four's craving. The food was A1, tasted authentic like it was from the south. Quality that beats many of the southern restaurants in the Expensive Bay Area. Plus the portions will leave your stomachs full!

Herrick H 01/02/22







Good service, good food, Frenchie greets you at the front door and walks you to your table. Wish I could leave 6 stars.

Ryan S 12/19/21







Toulouse is a new, up and coming restaurant with the soul of New Orleans in South Lake. Menu is concise with plenty of Southern classics to meet anyone's palate. We happened to stumble in during happy hour and enjoyed some phenomenal gumbo for a great price. After a day (or night) of gambling, everyone should make the really short trek down Park Ave and visit Toulouse.

Jeffrey P 11/11/21







Adrienne (how French!) was the absolute best! Friendly, hilarious and a pleasantly knowledgeable delight. We enjoyed warm outdoor seating quaffing delicious amber beers + well drinks as well as food, especially the gumbo. Yum wings, too. Next time we're in the area, will definitely return for more yum.

Benny M 11/08/21







This place is a hidden Gem. Went there for brunch 10/17/21. The food was awesome. He said it was a scaled down covid menu and will ad more back to the menu soon. Worth trying for a small restaurant on way down to the beach from the casinos. Great find!!!

Ron H 10/18/21







Very good food, genuine owners and staff. We really had a great experience here. Their breakfast and French toast was delicious. They are also dog friendly. If I ever visit Lake a Tahoe again, I will make sure to try their lunch and dinner as well.

Kadir S 08/30/21







Good food and good service get you 4 stars. Awesome food and amazing service get you 5! I would give 6 if it was possible. We actually went twice on the same day. Lunch was tasty and light which made our day. But let's talk dinner- Crawfish Etouffee and the Hot Tahoe Fried Chicken Sando. One word- DAMN! Worth every penny!

Pete S 07/26/21
Location:
901 Park Ave
South Lake Tahoe, CA 96150
Hours:
Breakfast Everyday: 8:00 AM - 11:30 AM
Lunch Sat - Sun: 11:31 AM - 2:00 PM
Dinner Everyday - 5:00 PM - 9:00 PM